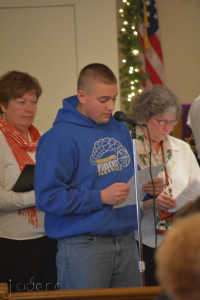 Here at St. John's UCC our Sunday School program is called Christian Connection.  The Christian Connection classes are overseen by the Christian Education Committee.
Christian Connection
Christian Connection begins at 9:30 AM.
Christian Connection classes are offered for both children and adults.  At St. John's UCC we use Bible Study and curriculum materials as chosen by our Christian Connection teachers in collaboration with the Christian Education Committee. In the past the adult Christian Connection class has completed Bible studies by Andy Stanley, Max Lucado, Adam Hamilton, Ray Vander Laan, and others.
Confirmation Classes
Age levels: Seventh & Eighth grades
The pastor leads these classes that prepare interested youth to become active members of their church family by teaching them what it means to be a disciple of Christ.  Students will learn about the theology of the Bible, the unique history of our denomination, and the life of our own congregation.  Each young person is matched with a mentor who will work with and guide them through the two year process of confirmation.  Second year students will complete a conference-wide, confirmation retreat at Hartman Center prior to being confirmed.   Confirmation classes meet during Christian Connection time.