Here at St. John's UCC our Sunday School program is called Christian Connection.  The Christian Connection programs are overseen by the Christian Education Committee.
Christian Connection
Christian Connection begins at 9:00 a.m.
Children's Christian Connection
Age levels: Pre-school and kindergarten through sixth grades
These are workshop rotation based classes that emphasize Bible literacy.  Children learn about Bible stories and concepts through multi-media workshops.  Children learn the same story in all the workshops for four weeks as they rotate to a different workshop each week.  Here at St. John's, due to time constraints, each workshop lesson is begun in Christian Connection and concluded in Children's Worship during the worship service.  
Age levels: middle school
These classes use the Seasons of the Spirit curriculum that follows the liturgical year and coordinates the scripture lessons with the scripture readings that are used in the worship service.  The intention is that students learn about the scriptures read in worship prior to reaching the worship service.
Confirmation Classes
Age levels: Seventh & Eighth grades
The pastor leads these classes that prepare interested youth to become active members of their church family by teaching them what it means to be a disciple of Christ.  Students will learn about the theology of the Bible, the unique history of our denomination, and the life of our own congregation.  Each young person is matched with a mentor who will work with and guide them through the two year process of confirmation.  Second year students will complete a conference-wide, confirmation retreat at Hartman Center prior to being confirmed.   Confirmation classes meet during Christian Connection time.
Christian Teen Networking  (This class will launch in September 2012 on Rally Day!)
Age Levels: High school through college (or ages 14 through 23, whichever comes first)
This class focusses on the social changes teens experience with everyday life in general.  They must make many choices about how they shall live, and they make these choices in the midst of many competing messages and pressures that are especially prominent in teens' lives.  Regardless of a person's age, learning that God must continue to be a part of their Christian life and how to keep His presence in their life during such challenging days is what this class hopes to accomplish with its students.  Teens must recognize that they must all be good disciples where the work of God is concerned.  This class uses the "Way To Live" curriculum and shares ideas for growing in Christian practices with teens.
Discussion concerns the following themes:
FOCUS:  Exploring our current experience of this area of our lives.

JOIN THE STORY: Encountering the Bible and learning from Christians who have gone before us.

CHALLENGE:  Stretching ourselves to live more faithfully.

WORSHIP:  Offering God thanks and praise and asking for God's help.

LINK: Related websites, videos, music, books and other resources.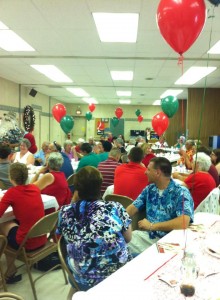 Adults' Christian Connection
This class is studying the book Not A Fan: Becoming A Completely Committed Follower of Jesus by Kyle Idelman.  This text challenges the reader to look at one's relationship with Jesus to determine if you are a fan or a follower.  Participants are encouraged to read selections outside of class so that discussions will be enhanced.  Copies of the book are available for participants to take home.