We support many local, national, and global initiatives and projects that minister to those in need within our local community and to those in need overseas. These are a few organizations with whom we have a long history.

Habitat for Humanity of Lebanon County
The camp, conferences, and retreat center of the Penn Central Conference of the United Church of Christ has offered summer camps and retreats since 1964. Pastor Chris has directed the CSI camp since 2006, and in the past our church has sent campers to this fun and worthwhile camp!
JOY (Jonestown Outreach PantrY)
"For the hungry facing difficult circumstances." This is a new project begun in 2011, supported by area churches and hosted by St. John's UCC, 120 W. Market Street, Jonestown, PA 17038. The pantry is open from 5 p.m. to 8 p.m. every third Thursday of the month. We support the pantry by taking several collections of canned goods throughout the year.
Lancaster Theological Seminary
Affiliated with the United Church of Christ and associated with nearby Franklin & Marshall College, this institution was founded in 1825 and has prepared hundreds of clergy to serve in churches nationwide.
Lebanon County Christian Ministries
​Lebanon County Christian Ministries shares the love of Jesus by providing emergency food, clothing, shelter, and guidance toward personal sustainability. ​
LCCM began its history 40 years ago as a small food pantry. Area churches joined together in response to the Bethlehem Steel Plant closing. Many of the workers had worked at the plant through several generations and had no skills other than nut and bolt fabrication. They had a hard time finding jobs, which made it difficult to feed their families. Acknowledging the hardship, Christian churches joined together to provide the much needed food.
Today, LCCM has grown into a multi-faceted organization. In addition to food, LCCM provides shelter, clothing, sponsors the daily free noon meal, provides heating energy and water bill assistance, administers the USDA's federal government surplus food program (TEFAP) and the Commodity Supplemental Food Program CSFP).
Namibia Partnership Ministry Team
An initiative of the Penn Central Conference, the team "promotes relationships between churches in the PCC and the 14 churches of the Namibia Synod of the United Congregational Church of Southern Africa."1 We are partnered with the Swakopmund Congregational Church in Swakopmund, Namibia. We hold an annual bake sale to support this partnership. In years past our pastor has visited our partner church in Namibia, and we have hosted visitors from Namibia. 1www.pccucc.org/directories/ministry-team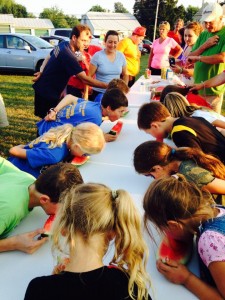 NNO is a nationwide program that promotes community spirit and police—community partnerships with the goal of a safer nation. In 2008 St. John's spearheaded and hosted the first Bethel Township National Night Out on our church lawn and parking lot. It has since grown to include entertainment, free refreshments, a dunking booth, and the Fredericksburg Fire Company members who come out with their fire truck to meet the community. We hope to see you there next year!
Samaritan's Purse distributes wrapped shoeboxes filled with toys, hygiene items, and school supplies to children in need in third world countries during the holidays. For many years we have collected shoeboxes and items to fill those boxes. In November, we have a merry time wrapping and packing the shoeboxes during Christian Connection. And, most exciting of all, sometimes we hear from those who have received our shoeboxes through a letter or through facebook!
UCC Homes has served older adults in Central Pennsylvania since 1965; there are two campuses in Lebanon County: the Lebanon Valley Home and Kindred Place, both located in Annville.